This week I published the preprint of a manuscript that started as a blog post, but quickly out-grew this medium: Understanding the Lomb-Scargle Periodogram.
Figure 24 from Understanding the Lomb-Scargle Periodogram. The figure shows the true period vs the periodogram peak for a simulated dataset with an observing cadence typical of ground-based optical astronomy. The simulation reveals common patterns of failure of the Lomb-Scargle method that are not often discussed explicitly, but are straightforward to explain based on the intuition developed in the paper; see Section 7.2 for a detailed discussion.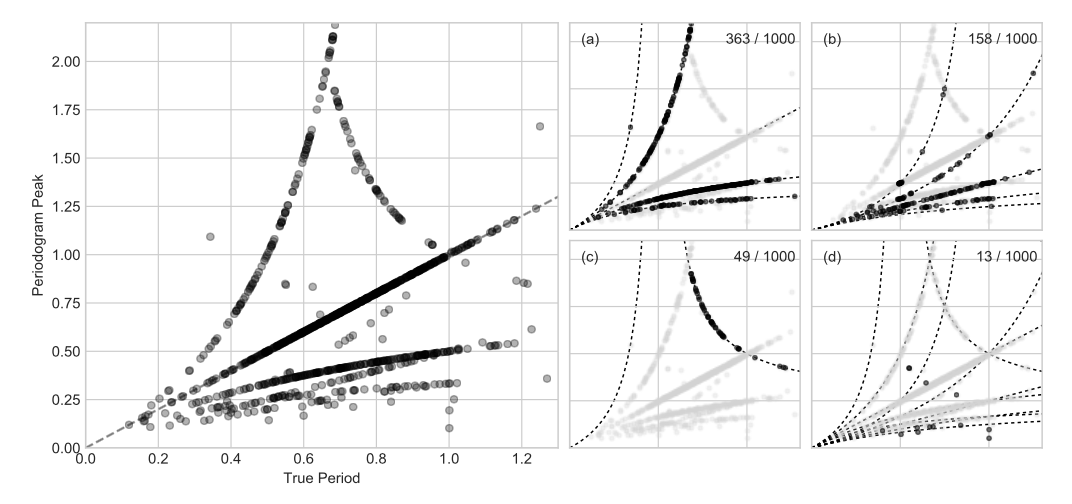 Over the last couple years I've written a number of Python implementations of the Lomb-Scargle periodogram (I'd recommend AstroPy's LombScargle in most cases today), and also wrote a marginally popular blog post and somewhat pedagogical paper on the subject. This all has led to a steady trickle of emails from students and researchers asking for advice on applying and interpreting the Lomb-Scargle algorithm, particularly for astronomical data. I noticed that these queries tended to repeat many of the same questions and express some similar misconceptions, and this paper is my attempt to address those once and for all — in a "mere" 55 pages (which includes 26 figures and 4 full pages of references, so it's not all that bad).